Place/Date: – January 12th, 2023 at 2:36 pm UTC · 4 min read
Source: HedgeUP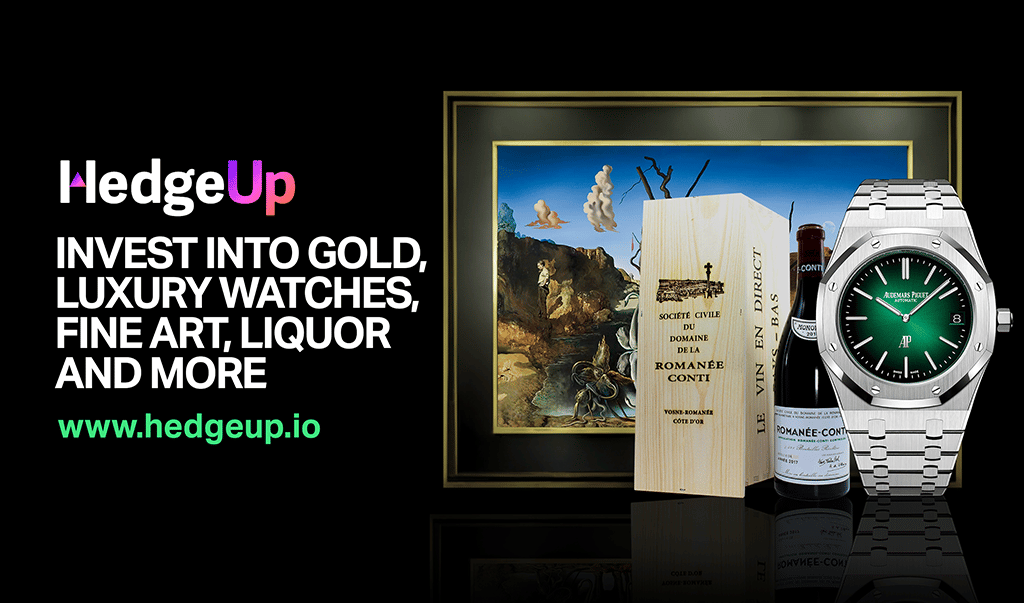 The volatility many investment portfolios experienced in 2022 left a sour taste in many investors' mouths. The collapse of cryptocurrencies and double percentage points pullback in stocks affirmed the need to diversify investment portfolios by focusing on relatively stable assets.
Alternative investment products could offer a much-needed reprieve for investors looking to reduce the overall risk on their portfolios. HedgeUp (HDUP) is one such project on the cusp of making it easy for investors to enjoy broader diversification while focusing on relatively stable investment products.
HedgeUp Alternative Investment Platform
HedgeUp is on its way to becoming the first alternative investment platform within the cryptocurrency sphere. Their primary goal is to offer an easier way for people to invest.  For the longest time, high-value assets have been beyond their reach. In addition, by bridging the gap between traditional and cryptocurrency investors, it hopes to make it easy for people to tap into opportunities in the alternative investment market projected to reach $17.2 trillion.
Therefore, it will offer a platform allowing people to invest in various alternative products, including wine, diamonds, gold, private jets, and luxury watches. While such products rely less on broad market trends and more on the underlying fundamentals, they should reduce the overall risk on investment portfolios.
Investing in alternative products should offer a way to diversify investment portfolios while also providing a way to enjoy enhanced returns. HedgeUp hopes to make it easy for people to generate annual returns between 28% and 36%.
HedgeUp is to partner with high-end startups to reduce the barriers to entry into the alternative investment market. In addition, its experts and analysts are to negotiate and formulate deals with third-party vendors to provide access to a wide array of alternative investment products.
HedgeUp has already pooled together a team of professional experts with over 30 years of experience in alternative investment products to teach people how to invest in alternative products. It is also working with well-known public figures to deliver the training.
NFT Fractional Ownership
Additionally, HedgeUp is to enable fractional NFT purchases. It's becoming increasingly more work for people to own some NFTs, given their high valuations. The revolutionary projects are to make it easy for people to own a piece of the NFT, depending on the amount of money they wish to invest. The NFT collection that people will own includes tokenized gold, diamond, luxury watches and fine art, among others.
HDUP the network's native currency will make everything possible in the ecosystem. The currency acts as a medium of exchange, enabling the buying and selling of alternative products. Additionally, it will allow people to invest in various NFTs through fractional stakes.
HedgeUp intends to offer staking capabilities that enable HDUP token holders to generate passive income. In addition, by locking HDUP tokens in pools to enhance liquidity, token holders can generate some passive income from fees generated in the network. Due to the deflationary nature of the tokens, there can only be 999M HDUP in circulation.
Additionally, HedgeUp is to integrate a DAO that oversees investment baskets' liquidity allocations and any ecosystem developments. All HDUP token holders will have the opportunity to join the DAO, therefore, voice their opinion on the revolutionary project plans and future. Token holders are to access voting rights to control the project's future.
There are also plans to partner with industry-leading metaverse companies to support users with communication and trade in the ecosystem. The ultimate goal is to create a platform through which investors can interact with institutional investors.
Bottom Line
HedgeUp has offered a way for retail investors to earn money by investing in alternative products. Investors should diversify their investment portfolios by investing in things like private jets, luxury watches, gold, and diamond and generate solid returns upwards of 28% to 36%.
For more information on HedgeUP click the links: Website, Presale, Community links.
Subscribe to our telegram channel. Join
#Explore #Benefits #Alternative #Asset #Investing #HedgeUp